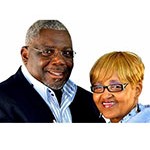 Apostle Samuel L. Phillips, Sr., is an extraordinary Pastor/Teacher. He operates out of an Apostolic mandate through the Spirit of God "to comfort them that mourn, especially them that mourn in Zion." Apostle Phillips being commissioned by the Holy Spirit has been given grace to bring deliverance and wholeness to the Body of Christ. 
The mandate that God has placed upon his life is one of healing in many areas to bring redemption, reconciliation, restoration, recovery and renewal to those who have been hurt, wounded or devastated by sin. Many believe that he is a specialist to the Body of Christ when it comes to relationships because many marriages have been healed and many singles have been made whole through the grace that is with him. 
God has used him to bring wholeness through emotional and physical healings and spiritual deliverance from dysfunctions, pains and wounds inflicted by sin. He is the Founder and Senior Pastor of the Word of His Grace Christian Fellowship, Inc., in Seffner, Florida. He is the covenant covering for several ministries locally and abroad and serves on the board of Directors for the Kingdom Global Alliance Network, founded by Apostle Paul J. Butler, Nassau, Bahamas. He is a charter member of the Potter's House International Pastoral Alliance under the auspices of Bishop T. D. Jakes. 
Pastor Velma Phillips serves as the Co-Pastor of the Word of His Grace and the Director of the Women of Destiny, the WOHG Women's Ministry. She has a ministry of "Love". Everywhere she goes she is known as the compassionate Pastor's wife. Pastor Vee as she is known among congregants for her loving hugs and operates in the gift of healing and ministers alongside her husband during altar services.
Apostle and Pastor Vee co-labor in the gospel and have been Senior Pastors for over 22 years; but their Pastoral experience span well over 35 years. They have been married for 39 years and they have 3 children and a host of grandchildren, Apostle Phillips received his Associate, Bachelor's and Master's degrees in Theology from Life Christian University, Lutz, FL. 
Apostle serves as covenant Pastor for several ministries under The Word of His Grace International Pastoral Alliance.